BrownstoneLiteraryWorks.com
With a stroke of a pen...
Featured Novels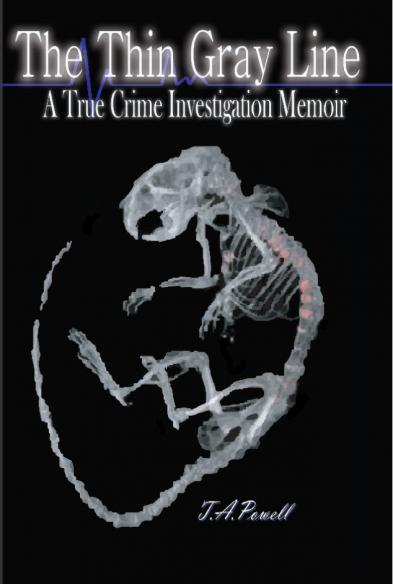 On the night of October 9, 1966 after a weekend of being placed on standby, Federal Treasury Agent Charley Covington received a call from ATTD higher-ups in Atlanta, Georgia releasing him from his stay in Valdosta, Georgia. According to accounts contained in the widow's journal, several phone calls came in that day, most of them from people she didn't know. One of them was from a known felon and snitch who reminded Charley about the illegal and clandestine activities out on the Clyattville-Nankin Road every Sunday night and another from a man about a car. Having spent the better part of the weekend arguing with his wife over a rumored affair, the lure of an evening's ride away from home may have been just what the doctor ordered to clear his head. Before he left he put his six-year-old daughter to bed, hollered a weak goodbye to his son, and agreed to a cup of conciliatory coffee with his nearly estranged wife. When his wife confessed the pot was empty and that he would have to wait while she made a fresh one, he noted the time and promised he would be back shortly after it was brewed.
Two and a half hours later he was found lying dead with two bullets to the head just before the Withlacoochee River on the Clyattville-Nankin Road outside of Valdosta. By the time his body was cold, the rumors were hot. For eighteen days federal and local agency officials danced around the purported scandal of the Federal Treasury agent like a herd of long-tailed cats at a Southern lawn party. Eventually they closed the case, declaring his death a suicide and its taint a blight upon their shared profession. Odd as it may seem, if Charley Covington hadn't lost his life in the middle of the Clyattville-Nankin Road that rainy night in 1966, he could never have come back to save mine forty-four years later. I know this to be true because in the summer of 2009, I began to write his story and several chapters in I stopped.
As a professional writer I have learned that if a story refuses to write itself, there are but two reasons why. Either a story is not yet ready to be told, or a story is not yet ready to be heard. In the case of Charles Gordon Covington, both reasons appeared to ring true. So I put down my pen and waited for further instructions from the cosmos as to what to do next.
Seven months later the cosmos finally answered…

Copyright 2009
T.A. Powell
www.brownstoneliteraryworks.com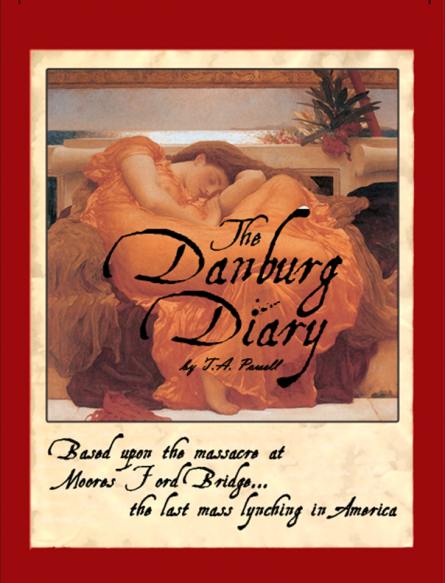 A horrendous act of violence known today as the last mass lynching in America was committed in the summer of 1946 against four African Americans in rural Monroe, Georgia. Days later on the outskirts of a rural outpost 90 miles away, a second heinous act was committed to hide the truth. National headlines speculating the possible political motivation for the carnage as recently as August of 2012, gives the plotline of The Danburg Diary an even more relevant edge.
In this tale, historical preservationist Caroline Horton is sent to the tiny town of Danburg, Georgia to restore an architectural landmark donated to the state for rehabilitation. In an attempt to flush out both rooms and family skeletons alike, Caroline is led to the charred remains of an heirloom grandfather clock. Delighted to have at least one piece original to the home, she sends the clock away for restoration. Weeks later a package of what was found hidden inside is delivered... a leather diary. Although the memoir itself contains no definitive ties to the Danburg, Caroline is drawn to the mysterious narrator's plight. As the content of the entries become more commiserate with its author ages, fears of possible sexual abuse trigger repressed memories for the preservationist and she begins to obsess over every entry. But before she can reach the diary's end she is faced with the prospect that something even worse might have happened to the phantom child. For sandwiched in between the singed pages penned in another's hand, is the cryptic description of a brutal murder scene.
The Danburg Diary takes what facts are known about the heated political race of the 1946 Georgia gubernatorial election and the actual events of the Moores Ford Bridge massacre and brilliantly backfills with rich and vivid imagery about what might have been. An inappropriate liaison, a secret marriage, a newly wed husband desperate to return to his bride and a hot summer's afternoon that puts him face to face with people who committed crimes without fear of incrimination. Follow the two lovers and the murders at Moores Ford Bridge through the eyes of the preservationist who does her best to solve the mysteries of the secret afterlife of The Danburg Diary-a story in which fact and fiction are woven so seamlessly, the reader is hard pressed not to believe it happened just this way.

ISBN: 978-1-4349-9890-3

The Danburg Diary by T.A. Powell is now available throught this fine online retailers:



The Danburg Diary
by T.A. Powell

Copyright © 2009 by T. A. Powell
No part of this book may be reproduced or transmitted
in any form or by any means, electronic or mechanical,
including photocopying, recording, or by any information
storage and

retrieval system

without permission in